We supply and implement Servers, Desktops, laptops and network infrastructure. HelpQuick provide these services for new or existing setups.
We are an independent consultancy with no affinity with any brands. Our wide breadth of experience and expertise allows us to offer guidance and support for every size of business. Let HelpQuick take the stress out of your next IT installation,
Examples of IT services we supply
Server Installs
Server migrations from old to new servers. Moving an applications and data between old and new servers. Whether your requirement be on premise or in the cloud then HelpQuick can help.
Virtual private Networks
Virtual Private Network (VPN) Installation. Allow working form home or connecting multiple offices together. We supply, and install VPN. HelpQuick will also document the client connection process for you.
Desktop and laptops
Desktop Installation. Whether new or replacement desktops we will take care of everything. Application installs, email setup, printers, mapped network drives to name a few.
Wireless networks
Wireless Network Install. New or maybe you are expanding an existing network. The freedom to move and work in your business environment should not be limited by your network.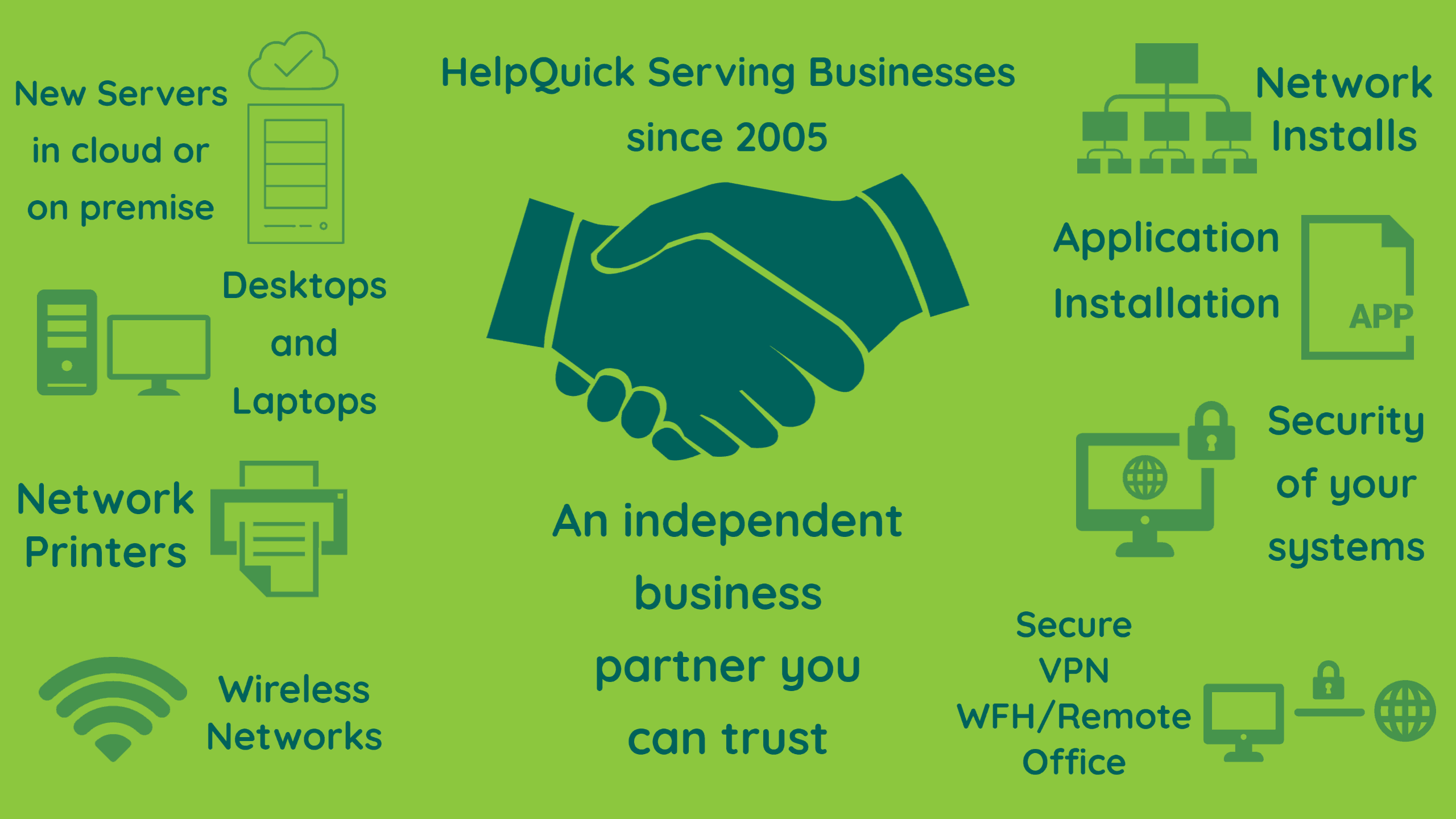 Automation
HelpQuick are the Server experts. We have in-depth knowledge on Microsoft and Linux platforms. We can script and automate processes. HelpQuick have the expertise and knowledge of developing on these platforms. Increase the efficiency from your systems through automation.
Application Development and installation
New application installation or perhaps an application upgrade. We can deliver these applications to your network. With experience of working with 3rd party application vendors. We can streamline your deployments process to allow for smoother and faster deployment.
Network Printers
Printers are a critical asset for many businesses. Should you require a new printer then HelpQuick are the experts. We supply printers which integrate into your existing network. This means you can print from anywhere on your network.
Security
Securing your data, internal network and external network. This has never been more critical. Loss of personal information is damaging not only from a cost but also from a reputation perspective. HelpQuick provide full security coverage. From the internet facing side of your network to the security of your office systems.